​
Win Bitcoins every hour — its free!
Play IQ Jackpot every hour as a live contestant in epic multiplayer trivia games. Win Bitcoin for getting answers right. It's that simple.
​
Practice before you play.
Rotate the cube to see the questions that will appear in the next live-game.
​
Wrong answers? No problem with ExtraLives.
ExtraLives keep you in the game when you choose wrong answers. Use up to four ExtraLives per game. Get FREE ExtraLives by inviting friends. Or, purchase them.
​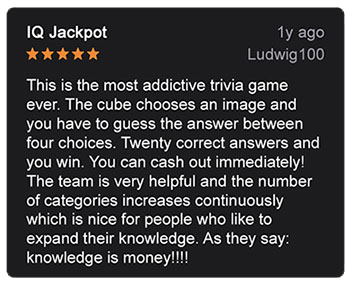 We make ads lovable.SM
Your ads appear on IQ Jackpot as trivia questions and are called TriviAdsTM. TriviAds are lovable because our audience engages with them pre-game to help them win the jackpot during the live-game. Learn how to create a TriviAd...
​
Host an IQ Jackpot Pre-game Show.
Are you a standup YouTuber with a large number of followers? Here's your chance to join a dream team of generously compensated entertainment personalities on the IQ Jackpot Pre Game Show. It's a fantastic way to monetize your follower base and generate revenue on a regular basis. Apply here...
​
© 2020 IQ Jackpot Corporation. IQ Jackpot name and logo, and TriviAds are trademarks, and "We make ads lovable" is a service mark of IQ Jackpot Corporation.
Terms of Use | Privacy Policy | Rules | Advertise